DataOps.Live and 'The Data Warrior' lead the debate on the present and future of DataOps
Hosted by Kent Graziano, aka The Data Warrior, the #TrueDataOps Podcast launched in November 2022, bringing together leading lights in the industry to discuss all matters DataOps, and in particular its journey towards maturity.
Kent has met thought leaders, innovators, and pioneering user organizations at the forefront of the #TrueDataOps revolution—with the story continuing into 2023 and beyond.
We are working on a great lineup of guests for 2023 to help us understand not only the technical aspects of implementing a #TrueDataOps approach, but also the organizational aspects. So, we will address not only the "what" but the who, when, and most importantly "why" organizations need this.
Our first episode for 2023 features co-founder and CEO of DataOps.Live Justin Mullen, discussing the past, present and future of DataOps. Justin has a long history in the industry and is a recognized international expert in DataOps, data mesh architecture, IoT data, data analytics, governance and risk. In the next episode, Justin will be joined by CTO, co-founder and Snowflake Data Superhero Guy Adams to discuss their predictions for 2023.
You can catch up with Kent and Justin in the fifth #TrueDataOps Podcast on January 9th at 11:30 AM PST.
In response to feedback from our international audience, we're changing our podcast timings. Following Episode 5 with Justin Mullen, the live streamed podcast moves to go live on LinkedIn each Wednesday at 8 AM PST, 4 PM GMT—beginning with Paul Rankin of Roche Diagnostics, in episode 6, Wednesday January 18th.


Other upcoming #TrueDataOps Podcast guests include...
Paul Rankin of Roche Diagnostics discussing his real-life experiences—a #TrueDataOps approach at Roche via a data mesh architecture and DataOps.live platform saw average Minimum Viable Product development time reduce from six months to 6-8 weeks. The number of monthly releases rose to 120 compared to only one release every three months prior to the new approach.
Kent is joined by Mike Ferguson, owner, CEO and Head of Research at Intelligent Business Strategies for episode 7. An industry heavyweight, Mike brings to the table more than 40 years' experience as an independent analyst and thought leader in business analytics, big data, data management, and intelligent businesses.
Later in January, we welcome a bona fide Snowflake Data Superhero: Frank Bell, also a Data Thought Leader at Accenture (Fairway Technologies) and author of the Snowflake Essentials book. Driving #dataleadership, Frank's mission is to 'create data-driven businesses in the cloud—partnering with Snowflake to empower businesses with their data.'
Allison Sagraves—2022 Top 100 Global Data and Analytics Innovators, Start-Up Board Advisor, and Consultant
Randy Bean—Founder & CEO of NewVantage Partners and author of Fail Fast, Learn Faster: Lessons in Data-Driven Leadership in an Age of Disruption, Big Data, and AI
Barr Moses—CEO and Co-founder of Monte Carlo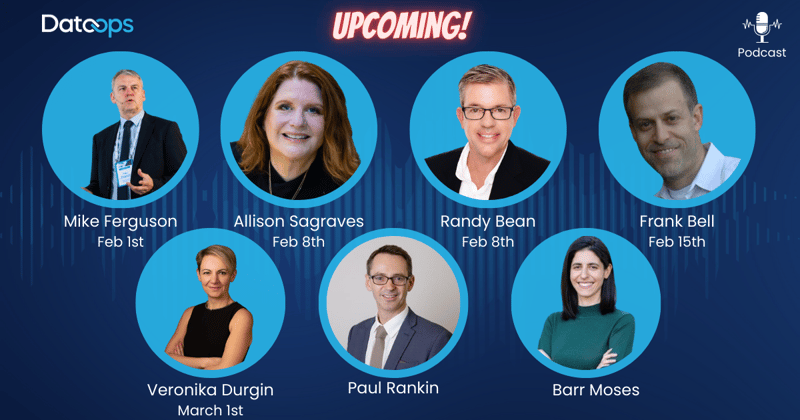 Looking back
In the first four editions, Kent and his guests discussed topics including the underlying philosophy of #TrueDataOps, the state of the data world today and what the future holds, and the practical benefits as well as potential obstacles along the way - alongside practical examples of how DataOps is being developed, deployed and adopted right now in different industries to create new business value.
According to Kent, "The world of data and analytics has changed massively since I started my career. With demands for more data and more agility to meet a constantly evolving business environment, organizations today need new and better ways to manage their data and build new data products. #TrueDataOps provides organizations strong principles to guide them in this quest. My guests and I dive into this philosophy as well as the practicalities of implementing DataOps at enterprise scale to deliver business value faster."
Wayne Eckerson
—

#TrueDataOps Podcast 1



Wayne Eckerson—#TrueDataOps Podcast 1



'DataOps is critical—it's technology, process and mindset'

The first podcast featured Wayne Eckerson, founder and principal consultant of Eckerson Group, and an internationally recognized thought leader in data

Leading with a discussion on what's hot and what's not in the data space, Wayne said, "Data mesh and data fabric are sucking all the oxygen out of the room right now. There's a lot of debate about what they really are, and what they're not. The data governance space is [also] gaining a lot of momentum. On the technology side, we'd been hearing about data catalogs in the last year or two, but I think many projects have stalled, and vendors are now turning these data catalogs into data governance platforms and leveraging the metadata they collect to activate actions and drive automation. Data governance is so fundamental to creating a data-driven organization."

Other topics covered included Wayne's take on the 7 Pillars of #TrueDataOps, the mindset required to make it happen, going after bottlenecks, the importance of testing, and tips to help organizations improve their maturity in data management practices.

YouTube: Link

Audio: Link


Miguel Morgado, OneWeb
—

#TrueDataOps Podcast 2



Miguel Morgado—#TrueDataOps Podcast 2



Data monetization through 'a unique stack founded on DataOps.live, Snowflake and data.world'—a single source of truth for all stakeholders to access, consume, and share insights

In the second podcast, Kent met with Miguel Morgado, product owner at innovative satellite communications provider OneWeb. Miguel has more than 20 years' experience in designing and delivering solutions for teams to collaborate and communicate around data, creating new insights to drive innovation. His team is supporting a global organization focused on providing revolutionary international broadband services everywhere by the end of 2023. As you'd expect, its operations—and the data involved—are huge and complex, with OneWeb working with SpaceX to provide connectivity via more than 600 satellites.

Describing his company as a Snowflake "powerhouse", Miguel explains what a data product is, before discussing with Kent how DataOps is helping the company to achieve its mission through a Data Mesh approach—"Quality was our first priority"—and, in particular, helping it to handle enormous complexity.

YouTube: Link

Audio: Link


Joe Reis
—

#TrueDataOps Podcast 3



Joe Reis—#TrueDataOps Podcast Ep.3



'Data testing is becoming a first-class citizen on a lot of tooling'

The third #TrueDataOps podcast featured author and podcaster Joe Reis, co-founder and CEO of Ternary Data. Since 2002, he's helped companies to become more intelligence-driven, applying deep experience in analytics and predictive analytics, machine learning, data engineering, and software engineering.

Joe said, "I define DataOps as broadly three things. It's automation, observability and testing [and] it's a necessary precursor for the data industry to mature. Prior to DataOps, things were pretty fast and loose... DataOps codifies and makes best practices more official." Kent and Joe later chatted about the importance of data quality, with Kent recalling an incident when a one-second mistake led to a six-week change control process.

YouTube: Link

Audio: Link


Mark Balkenende

—

#TrueDataOps
Podcast 4
Mark Balkenende—#TrueDataOps Podcast 4


'A continued movement towards democratizing data—a lot angled towards data science and ML'
In our fourth podcast, a 'Holiday Edition' with host Kent Graziano donning his Santa Claus hat—guest Mark Balkenende chatted about his background in data management, and recent trends in data including how AI and machine learning are being used by businesses to get ahead.
As VP of Product Marketing at Matillion, which aims to "make the world's data useful" through an easy-to-use cloud-native data integration and transformation platform, Mark discussed some of today's challenges in data management, including the difficulty of achieving high uptimes and the importance of data governance.
The conversation also covered the problems that can arise when using terms such as data warehouse, data lake and lake house, which carry historical baggage and may cause confusion—with Kent and Mark agreeing on "enterprise data platform" as a useful catch-all term—along with the importance of data literacy.
YouTube: Link
Audio: Link
With these and many more guests to come, you won't want to miss a single episode so be sure to register for the podcast at https://www.dataops.live/truedataops-podcast to get all the details and notifications. Guests and dates are of course subject to change, but if you register, you will always be up-to-date with the latest news and guest list.
Register for the podcast newsletter to stay up to date on previous episodes, show notes and upcoming guests.
Drew Kreiger
Drew is on a mission to help each user in the DataOps.live community learn, share, and grow. Drew is the Director of Community at DataOps.live with over eight years of community-developer experience. He has built a program for university students, supported forums and developer-led content, and grown multiple communities to more than 10,000 members while managing large community conferences. If you love learning and meeting like-minded individuals, he hopes to see you in the DataOps.live community.