On-demand Webinar
LEVERAGING SNOWPARK + STREAMLIT TO BUILD DATA APPLICATIONS ON SNOWFLAKE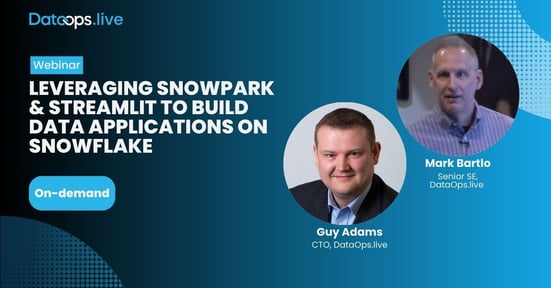 Data Products have become the fundamental unit of organizing data.
You may have heard about this large national bank where one customer data product has powered nearly 60 use cases—ranging from real-time scoring of credit risk to chatbots that answer customers' questions—providing $60 million in incremental revenue and eliminating $40 million in losses annually (source: the Harvard Business Review). Too good to be true? Not for organizations using DataOps.live!
DataOps.live's optimized support for Snowpark means your data engineering teams can achieve 10X productivity.
What You'll Learn:
How to build, test and deploy Data Products and Data Applications with a Cloud Development Environment with zero install and no dependency hell
How to leverage a dedicated Snowflake dev environment just for you with no impact on others
How to use a git workflow to safely promote your Data Products and Data Applications from development to test to production
Watch this on-demand session to learn how to upgrade your Snowpark-powered Data Products and Data Applications developer experience with DataOps.live, using a logical step-by-step approach followed by a live demonstration and some of our real-life use cases.